Martha (Meredith Arwady), Mary (Patricia Bardon) dancers (Stephanie Berge, Ingrid Mackinnon, Parinay Mehra) and Seraphim (Daniel Bubeck, Brian Cummings, Nathan Medley)
When we think of an oratorio Bach's Christmas or Handel's Messiah spring to mind. We focus less on the staging and costume designs compared to a fully fledged staged opera where we do. For an oratorio, we concentrate on the large-scale orchestration, the principal soloists and religious subject matter, which is precisely how one should view John Adam's The Gospel According to the Other Mary. It had its world premi

é

r, and is currently showing, at the English National Opera (

ENO).

Its librettist and director Peter

Sellars

wrote the piece for audiences to hone in on these pertinent parts with the added arrangement of contemporary dance, specifically Street Dance.
The Gospel According to the Other Mary
was first performed in Los Angeles in 2012. It was later co-commissioned by the Barbican in 2013. It is an companion piece to John Adam's El Niño nativity oratorio that premi

é

red in 2000, which is also framed with a collection of Spanish and Latin poetry by 12th century mystic, Hildegard of Bingen and extracts from the New Testament.
Sellars' production, however, is set in modern day where women are jailed for protesting on behalf of the poor, much like Jesus who is mentioned in the New Testament as blessing the poor and encouraging acts of charity. Based on passion of Jesus, as indicated in the title, the oratorio paints the perspective of the other Mary: the so-called prostitute Mary Magadalene - which many scholastics have argued against -, and her sister Martha, distinctively sung by contralto Meredith Arwady.
Sellars and Adams wanted to portray Mary as an emotionally complex woman with a corrupt past and this is done
sorrowfully by firm mezzo-soprano Patricia Bardon,

To feed the audience's intrigue of Mary's traumatic experiences her words are highlighted through the inspirational works of Bingen and other female poets who partook in social activism or undergone social injustice in their personal lives such as Dorothy Day, Louise Erdrich and June Jordan.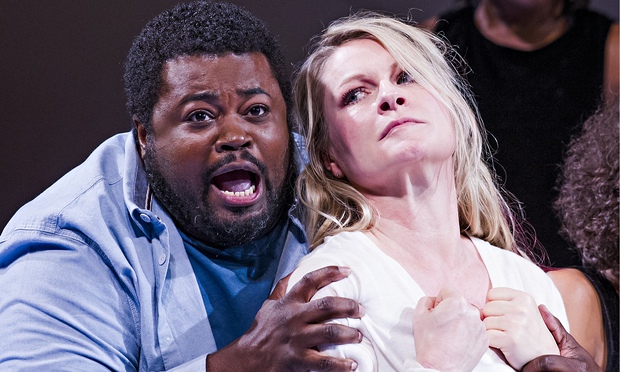 Lazarus (Russell Thomas) and Mary (Patricia Bardon)
Sellar's presentation on the ENO stage is full of intensity and chilling story telling. Adam's moving and cinematic score conveys the journey of the passion without the character of Jesus. With the use of three countertenors; (Nathan Medley, Brian Cummings and Daniel Bubeck), to sing as the Seraphim and narrator; four contemporary dancers (Stephanie Berge, Ingrid Mackinnon, Parinay Mehra)' including the spectacular and taut hip hop dancer Banks-Artiste, the work becomes spiritually alive, full of verve and determination. You don't need to be a Christian to enjoy this riveting and substantial piece of work.
Scene by scene, as we watch the story of the passion through the eyes of two sisters and their brother Lazarus - fervidly sung by model Broadway voice Russell Thomas - the audience is simultaneously exposed to a musical trail where Adam's eclectically modern score progressively builds in impact and texture: a swirl of turmoil and climactic serenity.
Introducing street dancer Banks in the passover scene
Joana Carneiro brazenly conducts the ENO orchestra stressing Adam's implementation of bold drum rolls, boastful brass instruments, bassy cellos, aggressive violins and a mix of percussions, which makes the experience more intense, and real. The audience see the ENO orchestra go in full steam in such scenes as 'Lazarus' and 'Golgotha' through an ominous and heartrending reenactment of the crucifixion. Watch as Banks crawls under the stage as a spirit conjuring dynamic moves (like a creepy lizard), that revives a sick Lazarus, performed by dancer Mehra.
So what does The Gospel According to the Other Mary have to do with street dance? Why did Sellars purposefully decide to bring in the talented 25-year-old Brooklyn born Krumper and flex dancer, Banks-Artiste, to star as the Angel Gabriel? Why isn't the music and vocals enough? I'd like to provide my own ideas of this by alluding to the work of David Hume in his 1711 book 'Dialogues Concerning Natural Religion', which is a collection of discussions by fictional characters attempting to understand the nature of God. Put simply, one of these characters named Demea argues that even if God exists we would not be able to comprehend God's nature because it is beyond the capacity of human understanding.
Sellars decision to employ a
cross-fertilisation of

artistic genres is a marvellous one that adds weight to the spiritualism of the oratorio. Not only is the audience entertained by a talented dancer but are able to watch stamping, flexing, locking and popping as another form of sacred communication. It is an added device to heighten the ethereal and poetic libretto. As the voices tell the story, Banks plays an instrumental role placing visual cues to a supposed higher power that, in the words of Demea, is unfathomable. Through another art form like dance, a notable message and meaning is revealed in this ambitious and highly exploratory oratorio.
The Gospel According to the Other Mary is showing at the ENO until the 5th December 2014. Click here to purchase tickets.
Photos courtesy of the ENO and Mark Ronan.
#ENOGospel #enootherMary @E_N_O Big applause for#JohnAdams 'masterpiece .A musical & artistic journey of the Passion pic.twitter.com/seI7zNImiD
— Mary Grace Nguyen (@MaryGNguyen) November 21, 2014
#ENOGospel "She had a sister named Mary" A Waa Haa! Those countertenors...Weren't they absolutely amazing!! #Bubeck #Cummings #Medley
— Mary Grace Nguyen (@MaryGNguyen) November 21, 2014
#ENOGospel BANKS' poppin &lockin expressions &techniques are a coup de theatre device that embraces the transcendental force of the unknown
— Mary Grace Nguyen (@MaryGNguyen) November 21, 2014
@MaryGNguyen thank you for the support. I really appreciate that.
— BanksArtiste (@Jame5BanksDavis) November 30, 2014