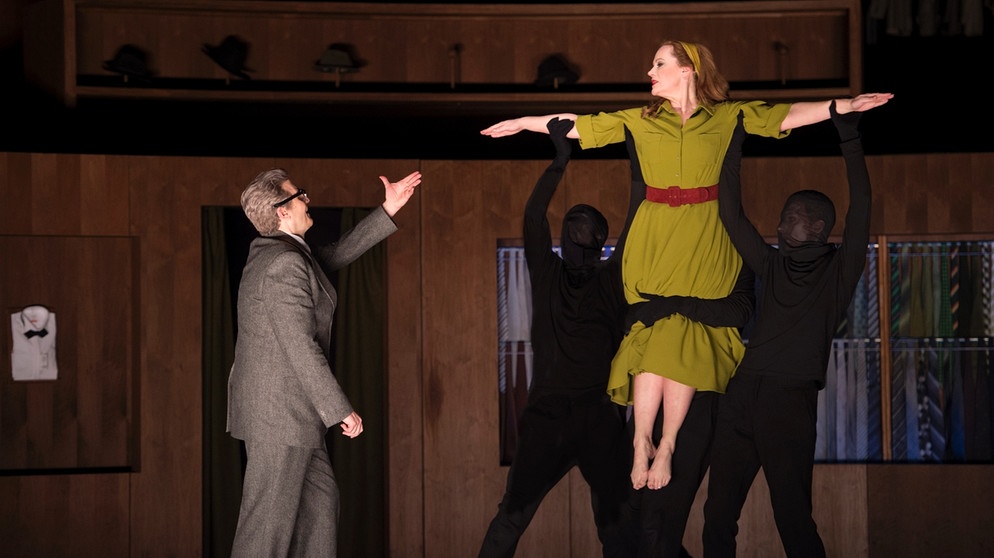 Salome:

Photo by Monika Rittershaus
This month sees many operagoers heading over to Deutsche Oper Berlin for a Strauss extravaganza. Der Rosenkavalier, Die liebe der Danae, Elektra and Salome are a few of the operas scheduled in and I had the pleasure of seeing Evelyn Herlitzius as Elektra and Allison Oakes as Salome this weekend.
It was my first time at the oper haus and I learnt much about its individuality and uniqueness from its friendly staff, quality of productions and audiences. For a start, while I fretted over finding an English translation of the librettos for these operas, it really wasn't needed. Deutsche Oper provides surtitles in both English and German - simultaneously! Not only does it make life easier for people like me who can't speak or read German, it can be very appealing and encouraging for its international audience. The productions (having seen both Salome and Elektra on consecutive nights) were irrefutably modern and abstract, yet I'm aware that I'm limiting my judgement based on two productions only. And there's no problems on the acoustics side either. Although it is large auditorium there was hardly any obnoxious echoes. Pretty solid sounds if you ask me.
Other things that added to my pleasurable experience at Deutsche Oper included the dress code which is practically nonexistent (not that I have a hard time deciding what to wear for the ROH OR ENO). Also, how easy it was to grab my jacket without having to worry about a stampede of fussy people, shoving and elbowing each other to get their belongings. In fact the cloakrooms are conveniently located at the entrance – it's the first thing the staff attendant will bring your attention to. There's also a decent bar on the first floor to grab a drink before the show.
Salome ★★★
I saw the Deustche Oper Berlin orchestra perform Salome back in 2014 at the BBC Proms, under conductor Donald Runnicles, so I knew musically I wouldn't be disappointed. Tonight saw Alain Altinoglu conduct the orchestra, and although it was my first time seeing him perform, I was more than impressed as he encapsulated much of the drama and intrigue of this fascinating opera.
Vocally it was its lead soprano Allison Oakes who was the diamond in the production. Through and through, she portrayed a cold and cruel Salome, wary of her step-father's lustful infatuation with her. Vocal quality was undoubtedly top-notch for many of its lead soloists including Michael Volle (Jochanaan), Herodias Jeanne-Michèle Charbonnet (Herodias) and Burkard Ulrich (Herods) who I had seen at the BBC Proms 2014 as well. However it was the staging that failed to move me. Oscar Wilde's Succès de Scandale (1891) which Richard Strauss adapted into an opera, seemed not so scandalous here on stage.
Director Claus Guth designs the stage as a high-end tailoring store for men with silk ties and mannequins on display. Herod's soldiers including Narraboth (Thomas Blondelle) are suited up and just as robotic and zombie-like as the mannequins. Guth has six young girls running and dancing on stage randomly. All different ages, they resemble Salome at various phrases of her childhood and adolescent life, and this could be interpreted as Herods seedy perception of Salome. Its paedophilic nature is made known and deliberately perverse, though Strauss's opera deals with a variety of sensational and biblical notions, not just necrophilia, that caused much controversy at its premier in 1905. In this production, however, Guth leaves it to the Deutsche Oper Berlin orchestra, Altingoglu and the expert soloists to unleash the emotional turbulent music of Strauss to carve out the sensationalism, blood and moral destruction for the audience, made not explicit on stage.
The sensational part of this production, however, is how drip and drab the staging was. Jochannas is introduced as naked and found in a rubble of clothes. As he sings and tells Salome to stop trying to tempt him, he slowly puts on a suit and I wonder whether this has anything to do with Salome's power and authority in the narrative... (I don't know, the mind boggles.) Either way, I found myself wasting time attempting to decipher the abstract symbolism on stage than actually enjoying the performance. Oakes, Altinuglo, Volle and Ulrich and the music seemed to be the production's saving grace.
— Mary Grace Nguyen (@MaryGNguyen) April 2, 2016
— Mary Grace Nguyen (@MaryGNguyen) April 2, 2016
Elektra ★★★★
Photo by Bettina Stöß
Having seen Donald Runnicles conduct for Salome at the Royal Albert Hall back in 2014, I knew I was guaranteed a solid performance. Here Runnicles as well as the Deutsche Oper Berlin orchestra were tenacious and much has to do with Strauss's score, full of dissonance, leitmotifs and chromaticism. It's hard to fall asleep when the music screams revenge!

Evelyn Herlitzius as the bitterly resentful Elektra is the tour de force of the p

roduction

, and this is shown from the moment she sings the first few bars of "Allein! Weh, ganz allein." The singing is praiseworthy and engaging

;

you forget where you are and all eyes can't

stop themselves from

gaz

ing

at Herlitzius calling for her father Agamemnon. Though distinguished v

ocals aside,

her potrayal of Elektra is toxic, psyc

hotic

and

even

scary. She describes

Elektra as

obsessive.

Addicted to the idea

, and willingness

, t

o kill her mother and her lover

. It's not

a pretty picture and Herlitzius transcends that.

This opera of disjointed family relations

, Greek royalty and

murdering backstabbers takes place on Bernd Damorsky's soil and dry mud stage, enclosed in golden painted walls. Is this the mind of Elektra

? S

hrouded in gold but stuck in limbo? The staging has nothing else

to distract us

but a door that opens above Elek

tra

where her treacherous mother Queen Klytämnestra watches down on her

.

This minimal staging worked appropriately and permitted the audience to focus on its performers

,

Strauss's phenomenal music did the rest. Doris Soffel as Klytämnestra hit the notes needed, even though her red couture made her

look like

Cruella de Vil's doppelganger. Her hideous laughing

was effective, making

her character easier to

hate

.

Elektra's sister Chrysotemis - who Elektra attempts to get kinky with, attempting to engage in some incestuous kissing, fondling and rolling around on the soil - was sung by Manuela Uhl. I wasn't entirely convinced by Uhl's singing, which managed to move some of the audiences (as I saw at the curtain call). What she successfully did, however, was manage to irritate me with her innocent and non-confrontational depiction of Elektra's sister. I found her annoying, but perhaps that's the point. Chrysotemis doesn't want to help her sister

avenge

her father's horrific murder because, essentially, she is a coward.

Tobias Kehrer was mighty impressive. I had seen him at the Royal Albert Hall singing as Osmin in Glyndebourne's 201

5

production of The Abduction of the Seraglio, which made my viewing of him in the role of a serious and semi-heroic character more intriguing. From an oafish and comedy character to seeing him as Oreste, the son of Agamemnon, was marvellous. I'm a fan of his rich bass voice and to see him running around in anger through the soil and grace us with a sentimental scene reunited with his

distressed sister only

proved how versatile he can be as a performer.

Out of the two operas (Salome and Elektra), I felt much more pleased with the second opera, given the less-is-more concept

s

on stage. Director Kirsten Harms (who was given a
honorary membership of @deutsche_oper! at the curtain call of the night I saw her) seemed to have harnessed the best of Elektra

,

Strauss's and librettist

Hugo von Hofmannsthal's highly-powered opera.
— Mary Grace Nguyen (@MaryGNguyen) April 4, 2016
— Mary Grace Nguyen (@MaryGNguyen) April 3, 2016
— Mary Grace Nguyen (@MaryGNguyen) April 3, 2016
The productions of Salome and Elektra have ended but here are various Strauss operas available. Please have a look at their website here.