This performance was reviewed in Curzon Cinema, Chelsea through the Met's Live in HD series on October 17th.
Antonenko as Otello (Sara Krulwich/The New York Times)
For the Met's Live in HD series Verdi's Otello launched the 2015 season that isn't located in sunny Cyprus, as the original Shakespearean play depicted, but in a dark and colder island not too far from the northern hemisphere. The production is dedicated to the late Jon Vickers who died this year and his past performance of Otello in 1978. It is also an important production of Otello that gives way to the Met's proud
denouncement
of the blackface tradition. (More on this later)
Producer and director Bartlett Sher has introduced his first tragic production, having directed at the Met since 2006 with

Il barbiere di Siviglia

, with a stage concept away from the Moor as an outsider but more on the destructive nature of jealousy taking hold of a captain on an isolated and icy island transgressing to the poisonous words of his ensign Iago. The visual details - sombre colours (grey, brown and black) through Catherine Zuber's 19th century costumes, Luke Hall's sea wave moving projections and Es Devlin's glass palace - create a minimalistic staging that leaves much of the work to conductor Yannick Nézet-Séguin, the Met orchestra, soloists and Met chorus to draw in the audience and keep Verdi's opera burning bright until the real tragedy stirs in the final act.
Stage designer Devlin incorporates moving neo-classical, translucent, acrylic boxes which are architectural representations of the psychological complexity of the opera's lead characters, according to Sher, and rightly so considering the narrative unfolds through the malicious and conniving actions of Iago. The visual frostiness and lack of transparency illuminates Shakespeare's words, 'I am not what I am' hinting at the veneer that hides Iago's true demeanour. These visual blocks are cleverly coordinated in Act 3 when Iago and Cassio jokes and teases over a woman Otello believes is his wife and, like a maze, Otello meanders behind these opaque structures, avoiding a collision and being caught eavesdropping on their conversation.
(Courtesy of Met Opera photographer)
Yet as much as the narrative's symbolism is there something is largely missing from this production which is the warmth and sense of humanity in the other characters (apart from Ludovico and Emilia) and the overall staging. The only trace of passion is shown through Desdemona (Sonya Yoncheva) and Otello (
Aleksandrs Antonenko); arguably this highlights how everyone else, including Iago, are stuck in a chilling and unfeeling world compared to Desdemona and Otello who relish over their love - the only bit of heat that others envy. This hot romance is depicted through Yoncheva and Antonenko who give a convincing picture of a couple in love. In act I, their distinctive performance in the duet leading to "un baccio" (one kiss) leaves a mark in many viewer's memory - a heartrending scene.
Latvian tenor Antonenko, one of the few tenors who can do justice to the role of Otello, opens his eyes wide and give the audience an enraged, suspicious and angry husband. Vocally he sings within his range, ravishing and poised reaching those top notes as he had effortlessly done before in the role which he has held since 2011 at Opera National in Paris, and as much as some operagoers may be used to seeing him with blackface makeup, this custom, that the media has over advertised, is trivialised, not at all significant to the general effect of the opera. The jealousy of Desdemona and Cassio and duplicity of Iago is much more relevant than the idea of Otello as the Moor in this production. Antonenko delivers the sickness of jealously explicitly and also reveals the softer side of Otello at the very end which the audience pities when he realises he was dupped in to killing his wife. The only down side, however, is despite how vocally sophisticated and intense his voice is, Antonenko doesn't have the appeal of a captain and there is no inkling of an outsider which is subscribed to his character - the major downfall and tragedy of Otello.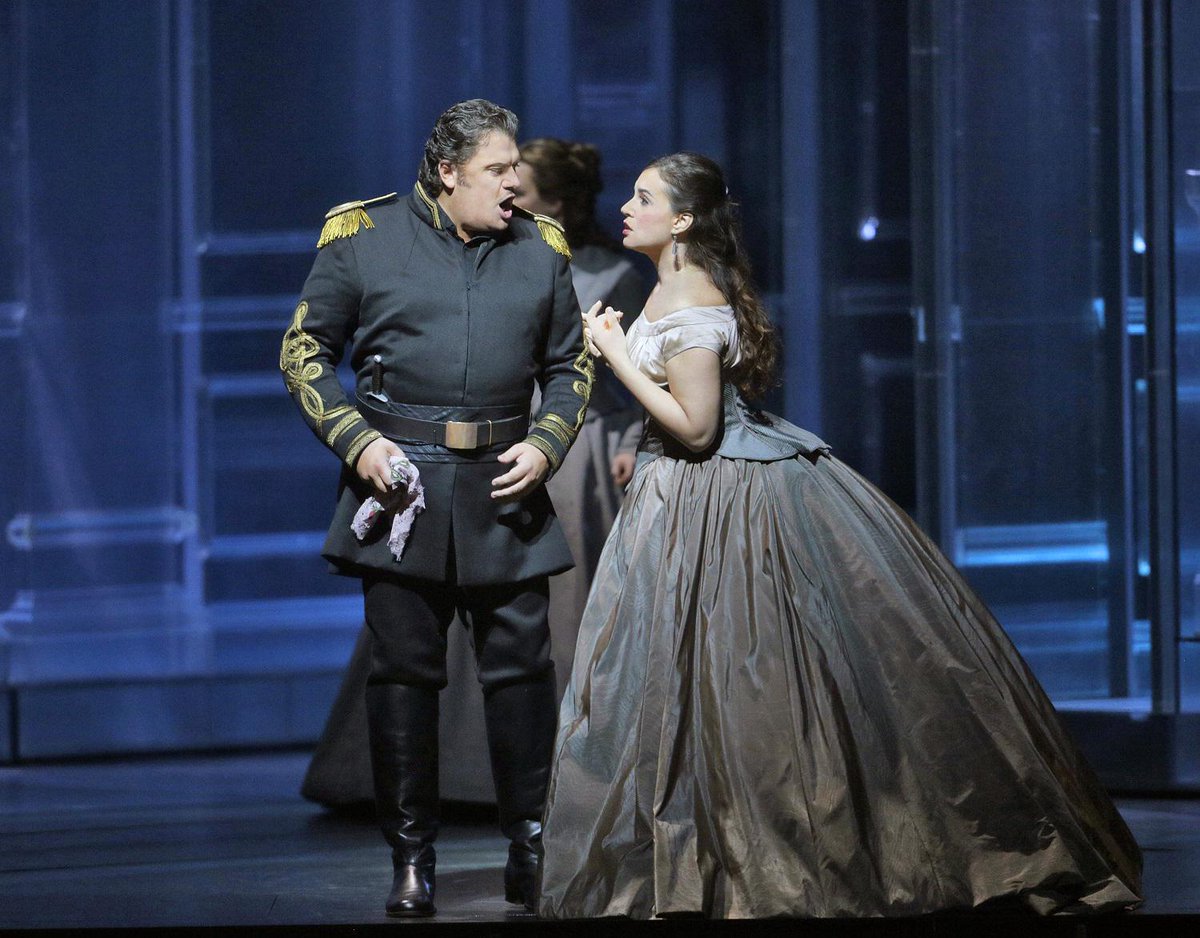 (Courtesy of Met Opera Photographer)
Attractive Bulgarian soprano Yoncheva is reassuring in her address of Desdemona, completely true to her husband and innocent. Zuber dresses her in a blood red gown and in white in the final act which separates her from the rest of the cast and chorus. Her voice is strong, romantic and adds interesting depth; together with Antonenko they sing gracefully in the love duet. Her forlorn "Willow song" - knowing she is going to die by the hand of her husband - grabs the hearts of the audience. It is undoubtedly moving and sensitive; here at the Curzon Cinema the audience did not move an inch - you could almost hear a pin drop.
Baritone Željko Lučic looks cool and suave as the evil villain Iago. Lučic gives Otello 'evils', snarls and murmurs when he isn't looking. In a long black leather jacket, he sings powerfully "Credo in un Dio credel" selling the richness of his malcontent and nihilism. Lučic pulls off some vigorous singing in "Sotto Voce" yet remains far removed, and just as cold as every other person on stage excluding the lovers. Exquisite singers; Dimitri Pittas, as Cassio; Günther Groissböck, as Ludovico; and Jennifer Johnson Cano, also deserve their due playing invaluable parts of the stage. Sadly Verdi didn't give them enough Italian words to sing. In spite of the motionless Met Chorus, particularly in the first scene, they were vocally immense as well.
The Met Orchestra and maestro Nézet-Séguin has a lot to offer through high spirited conducting and the spectrum of temperaments from instilling rage, tenderness and innocence. I can only imagine that if I were at the Met I would have felt the volume and electrifying dynamic movement from the orchestra especially the cellos and the brass chords. The attractiveness of this production really stems from the soloists and the musicians in the pit, yet the stage is, for the most, part, static and drags down the sheer gravitas of Verdi's fascinating opera.
Antonenko and Yoncheva (Ken Howard/Metropolitan Opera via AP)
... issue, which has ceased at the Met since the opening night of this production, is a direction that should have taken place decades ago in an ideal world. Last year the ENO also gave the makeup-free role of Otello to Australian tenor Stuart Skelton which signified the ENO's break from tradition. Theatreland abandoned the need for a white actor to makeup their face to play the Moor a long time ago but, then, why did it take opera more time to catch up?

The tradition has existed since José Cura sung the role in the 1891 Met production and in that time Patrick Stewart had played the lead role in a "photo negative" theatrical performance without makeup and an all-black cast as the Venetians. Theatre world has been much more experimental with Shakespeare's version of Othello; in this summer's RSC production Iago and Othello were casted by Lucian Msamati and Hugh Quarshie - both black actors.

Having read Washington Post's summary of interviews with opera singers 'of colour' (Kenneth Kellogg, Soloman Howard, Russell Thomas, Alyson Cambridge, and Deborah Nansteel), who find no offence committed in putting dark makeup on tenors' faces, I have a question mark over their comparison between Otello and Madama Butterfly who, as a geisha, is covered with white makeup. There's a clear difference in that Geishas - Japanese or non-Japanese - are covered in white makeup irrespective of their ethnicity. The character of Otello on the other hand is segregated for his difference of colour in the Shakespearean play which is a trope of Otello which librettist Arrigo Boito and Verdi deliberately transferred to the opera.

However there are other forms of isolation and segregation that can be shown on stage without the need to reference the difference of skin tone. Theatre directors have the grim, challenging and, arguably, fun task of deciding how they stage a production of Othello yet this sense of liberty and artistic license is limited in opera. Why is that? Because it's opera and it requires a first class singer to nail the role of Otello. In fact, the roles of Otello, Iago and Desdemona are among the few of Verdi's most demanding and vocally dramatic roles he had written. Antonenko, as I stated above, is one of the few in the market qualified and vocally suited to the role of Otello. This is demonstrated through his vocal prowess which overshadows the lack of a blackface in this Met production, but then, this leads onto another cloud of problems - the limited scope of singers trained to sing certain roles.

Russell Thomas, in the Washington Post interview, raises the point about opera houses not picking singers within their "locality" and choosing talent from elsewhere e.g. abroad. The removal of a blackfaced Otello underlines other issues in opera where this old art form has only just got rid of an archaic custom and, now, opened a discussion over the competition amongst opera singers all over the country, and the world, for leading roles in opera repertory.

The Met's decision to denounce the blackfaced Otello is just the tip of the iceberg. Directors may simply decide to get rid of a few lines referencing the Moor's coloured skin from Boito's libretto (which would be a huge mistake) or perhaps decide to cast a black tenor to sing Otello - it's been done before. One example is the first black tenor to sing the role of Otello in the UK (Ronald Samm) in the Birmingham Opera Company's 2009 production. Either way, the Met's decision has brought attention to the massive competition amongst opera singers and the decisions casting directors have to make for demanding roles.
— Mary Grace Nguyen (@MaryGNguyen) October 17, 2015