Photo by

Richard Hubert Smith for Glyndebourne
Die Entführung aus dem Serail

(

The Abduction from the Seraglio) (1782) reawakens audiences of Mozart's genius with

some heart-felt arias and a

throbbing whirlpool of an overture.

He was only 26-years-old when he composed the opera.
Die Entführung

is famously known for being criticised by Mozart's then commissioner, Emperor Joseph II for having 'too many notes', and although

a comedy opera, its subject isn't so innocent. Much like

Die Zauberflöte (The Magic Flute)

, there are misogynistic and racial slurs honing in on Eastern and Western values, particularly the Ottoman Empire so, it's always interesting to see how directors choose to stage a production.
This year, Glyndebourne has David McVicar directing the opera for their summer programme, which was broadcasted live at cinemas [July 19

]. At the Gate cinema, Notting Hill, older audiences familiar with the work attended, yet some of them were a little too impatient to see its ending. McVicar's instruction to include the full singspiel may have been the cause of this, which produced a half play, half opera concoction. One cinema viewer shouted, 'hurry up!' during a dialogue between Belmonte and Pedrillo in act I.
In spite of how long the opera was the singspiel didn't spoil my experience, which, surprisingly, was refreshing. The fine German diction and frivolity between the oafish Osmin (Tobias Kehrer), artful Pedrillo (Brenden Gunnell) and noblemen Belmonte (Edgaras Montvidas) were things to relish about the opera. The merciful efforts from heart-broken Pasha (Franck Saurel) to claim Konstanze's love (Sally Matthews) were also significant parts of the production.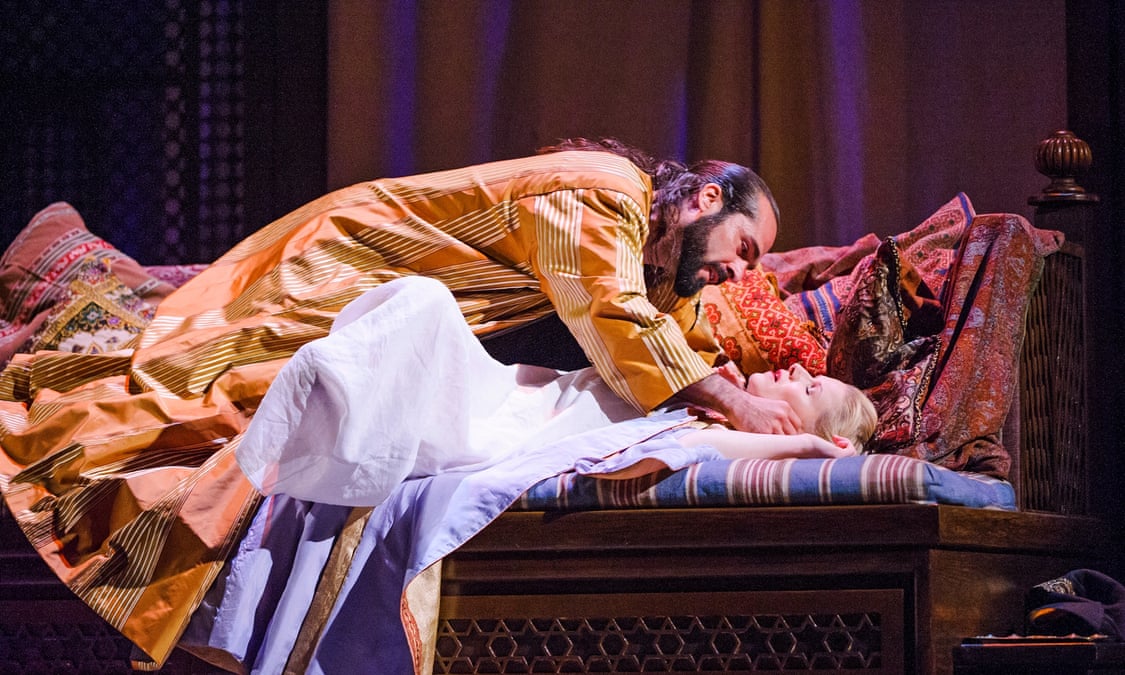 Photo by
Tristram Kenton for The Guardian
McVicar's traditional and safe staging seemed to go well with the beautiful score. The

overall set was visually pleasing with period costume, green gardens and Ottoman Empire-inspired, lavish interiors for Pasha's harem, designed by Vicki Mortimer. The Orchestra of the Age of Enlightenment and their period-specific instruments appropriately added a unique touch to the decadent opera with Glyndebourne's music director Robin

Ticciati at the helm.

The overture was gutsy and

Ticciati conducted

with aplomb.
Undoubtedly radiant and sensual was Matthews as our trapped heroine who says one thing but does the other - she allows Pasha to kiss her one second but rejects him in another. Her ability to reach stratospheric notes seemed effortless though it had me thinking, at times, how cruel Mozart was to make sopranos sing such top notes so often and between one another. And because of this, I could hear her straining in 'Martern aller Arten', but, resilient as she was, she kept singing until the end.
Montvidas was lyrical as his character's virtuosity and bass singer, Kehrer sang as an awesome, but nasty Osmin. He soon became a favourite amongst the audience, even though he displayed an evil ogre and less of a comedian. His scene with

Mari Eriksmoen, as Blonde, throwing pans and dishes at each other was one of the funniest moments of the opera.
Eriksmoen performed as a crafty and cheeky Blonde, and with Gunnell's speedy Pedrillo made a cute and hilarious couple on stage, cleverly depicting the social divide with Belmonte and Konstanze's relationship.
Despite not having to sing Franck Saurel was

a thrill to watch

too

as the sensitive Pasha. With saucy scenes of a sexual violence, teary eyes, passionately said words and a half naked torso, Saurel was the stuff of great acting.
Thanks to

Live broadcast of Glyndebourne audiences can gain insight of Glyndebourne performances, minus the dinner jacket and
fascinator.