Currently showing at the St James Theatre is a heart-breaking musical feast that takes the audience back in time, demonstrating how far we have come since WWII. The Pianist of Willesden Lane is a one-woman show, originally written from the book The Memoir of Music, Love and Survival by Mona Golabek and Lee Cohen.
Reliving the past is Golabek herself who gives an up close and personal account of the most intimate details of her family's traumatic and shocking life.

The writer and musician takes us into her personal space, speaking heroically about her mother Lisa Jura, whilst playing various piano pieces effortlessly including Scriabin's Etude in D Minor, Beethoven's 'Moonlight' Sonata and Debussy's Clair de Lune.
Lisa is a young Jewish girl who loves to play the piano; even in silence she loves to place her fingers over the piano keys. One day, as she made her usual way to visit her piano teacher in Vienna, in preparation of playing Grieg's Piano Concert in A Minor at the Musikverein Concert Call in the future, her life changed as soon as she arrived at his door.
This change came from the regime's decision to make it illegal to teach Jewish children, so he told her it was best to leave immediately, and that was the last time she ever saw her teacher.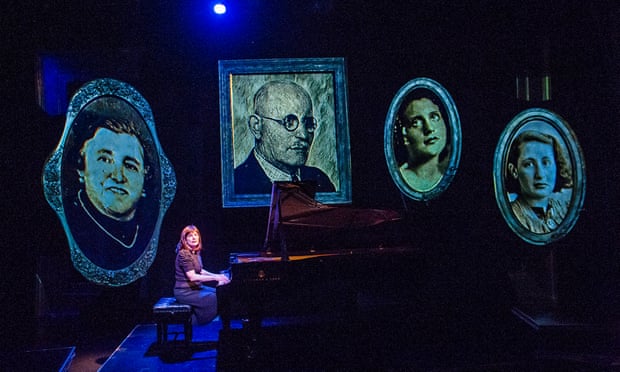 Towards the end of 1938, the Nazi's military power grew stronger and enforced the slaughter and persecution of the Jewish population – Kristalnacht – which was prevalent throughout the Third Reich. Yet by luck, Lisa's father managed to get a golden ticket for her to take the Kindertransport to England.
Golabek gives a remarkable rendition of her courageous mother through touching and

tender moments. These segments included Lisa saying goodbye to her family before boarding the train, to finding a place to sleep during the London's Blitz and, by chance, getting a scholarship to the Royal Academy of Music.
Adapted by Hershey Felder, this visceral play steals the hearts of the audience including those new to classical music. The production has black and white footage, which provide visual context and emotional language to Golabek's voice. These visual projections are formed by Andrew Wilder's gold edged frames that act as a way into Lisa's world, alongside a large Steinway grand piano for Golabek to play breathtaking variations by the great composers.
In light of current affairs,
where today's UK government is considering taking

3000 unaccompanied

children

from

Syria

, this 90 minute play is not only a history lesson

but

a musical story filled with love, pathos and sweeping tension.
— Mary Grace Nguyen (@MaryGNguyen) January 22, 2016