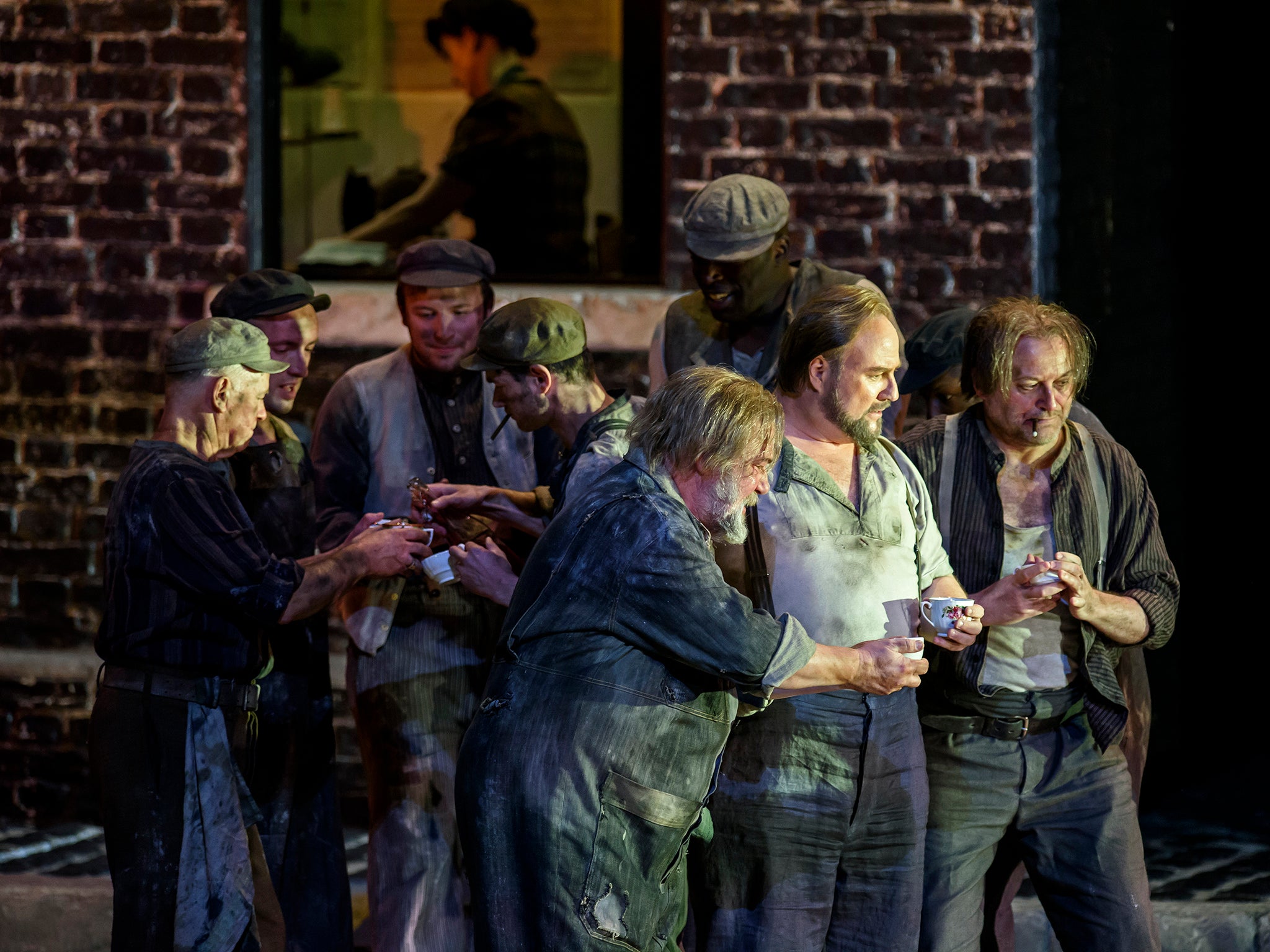 Il tabarro - Photo by Bill Cooper
[5th March 2016]
The longer awaited production of Richard Jone's Il Trittico at the Royal Opera House was a relief for many who saw the premier back in 2011, which received positive reviews at the time, However Puccini's triptych of love, jealousy, murder, loss and comic trickery wasn't always performed together. For example, Suor Angelica would be dropped, while Gianni Schicchi would be paired with another opera, and so forth. For this production conductor, Nicola Luisotto is on top form, fashioning the diverse styles of Puccini - when the music was dramatic Luiosotto made sure you knew trouble was on its way.
I've had the pleasure of seeing Il tabarro and Gianni Schicchi by the talented Fulham Opera (review here) as well as Opera Holland Park's captivating production of all three (review here), and from this I've realised that putting these one-act operas together (originally Puccini's intention) - with their various storylines, diverse subject matters and versatile music - makes it a far more enjoyable night at the opera compared to seeing them as separate entities. What's more touching is that at the time of composing Il trittico (1918), Puccini was going through a difficult time in his life, making these operas more intimate and insightful of the composer's life.
Il tabarro
★★★★
Some may not consider Il tabarro (The Cloak) as their favourite opera but I relish the opportunity to hear it because of the unique music, lovely arias, intriguing detail and riveting narrative - a married woman who is driven into a clandestine affair with one of her husband's workers as a way of coping with child loss. It's fair to say that Il tabarro is definitely not a happy opera. Alongside the main story, which ends with a monstrous murder scene, Puccini opens up a picture of Paris seeped with poverty, misery and a constant yearning for a better life, by the lower classes.
Based on Didier Gold's play, La Houppelande, Puccini felt compelled to turn it into a melodrama opera, which is set in a similar time and societal space as his famous opera, La bohème. Stage designer, Ultz places the opera on the dock of the River Seine with Parisians minding their own business - kissing their lover in the backstreets and bargaining for pleasure - with a boat for our child-less couple Michele and Giorgetta. Italian baritone Lucio Gallo's Michele exhibits the sadness and loneliness felt of man destroyed of this loss. Michele's sings to his wife in desperate need of affection, reflecting on the moments he wrapped her and their child with his cloak, while Giorgetta rejects him and gives flimsy excuses for not kissing him when he requests it.
Patricia Racette, as Giorgetta, misplaces her love and desire for Luigi, persuading him to come back when Michele is asleep. Racette enthralls the audience with her splendid voice and Carl Tanner had me listening attentively when he sang lyrically and exquisitely to Hai ben ragione! meglio non pensare. I suppose it must be all that pitying for all of the characters including Frugola (Irina Mishura) and the burden of child loss that moved me the most. One moment complete euphoria, for Michele, and then complete despair and death for Luigi.
Suor Angelica - Ermonela Jaho - Photo by Clare Colvin
Suor Angelica
★★★★
Albanian soprano Ermonela Jaho is back again to regale us with her glorious performance as Angelica, as she did back in 2011. Suor Angelica is a spiritual opera that is said to have the most poignant and lyrical music of all three. Some of Puccini's best music comes from Il trittico (I agree) and again, this beautiful opera has a heartbreaking story to tell. Miriam Buether's set is a 20th century children's hospital where nuns look after children patients in a ward.
Having lived an immoral life, according to her family, Angelica is sent to a nunnery. After many years, she receives a visit from her unforgiving aunt who gives her the most devastating news. Jaho gives a courageous performance as Angelica, demanding an answer of the well-being of her son and showing the grief and shock as if it were real. Anna Larsson received a boo at the end but that was simply because of her convincing portrayal as the selfish and cold-hearted aunt who broke (our) Angelica's heart.
Jaho's performance in Senza mamma is like a knife. When you see her wobble and weep as she realises the consequence of drinking poison, which Angelica thinks would bring her closer to her son, it really is harrowing. Her isolation and segregation from the other nuns is made clearer in their inability to do nothing as she goes into a frenzy, grabbing and begging them to help her. The enchanting music and courageous singing makes this one of the most moving opera performances I've ever seen; many in the audience were in tears by the end of it.
Gianni Schicchi - Photo by Bill Cooper
Gianni Schicchi
★★★
Wasn't it kind of Puccini to compose a lighthearted opera with the 'desire to laugh and make others laugh' after all the dark melodrama and heart ache? Here, Gallo puts down Michele's cloak and returns to the stage as the raw and wittier Schicchi who saves the Donati family (well,) by impersonating their dead relative. In John Macfarlane's staging of Buoso's warmly-lit home, the family hang around waiting for the last moments of Buoso to die so they can each identify what they had inherited. To their disappointment, it turns out that Buoso had left them nothing and offered everything to the local monastery instead - they don't even get his mule!
Gallo gives a memorable performance as Schicchi while Sussana Hurrell performed beautifully as Lauretta as she sung O mio babbino caro, delightfully; the audience sighed and applauded loudly as soon as she was done. Sicilian tenor Paolo Fanale was also a glowing voice on the stage as Lauretta's fiancé, together they represented the sweet side to the opera, fluttering their eyelids, encouraging Schicchi to help the family out so they can get married sooner. Much praise goes to the hilarious ensemble as the disgruntled and complacent money-hungry family sung by Elena Zilio, Marie McLaughlin, David Kempster, Gwynne Howell and Tiziano Bracci.
Production ends on the 15th March 2015. Although it is three operas, it is shown in one performance. Click here to purchase tickets or call the ROH on the day to see if there are any return tickets.
— Mary Grace Nguyen (@MaryGNguyen) March 5, 2016
— Mary Grace Nguyen (@MaryGNguyen) March 5, 2016
— Mary Grace Nguyen (@MaryGNguyen) March 5, 2016
— Mary Grace Nguyen (@MaryGNguyen) March 5, 2016
— Mary Grace Nguyen (@MaryGNguyen) March 5, 2016
Come on - Il tabarro is good!It got good when it was about drinking,life not worth living, all that murdering & cheating wifey

#ROHtrittico

— Mary Grace Nguyen (@MaryGNguyen) March 5, 2016