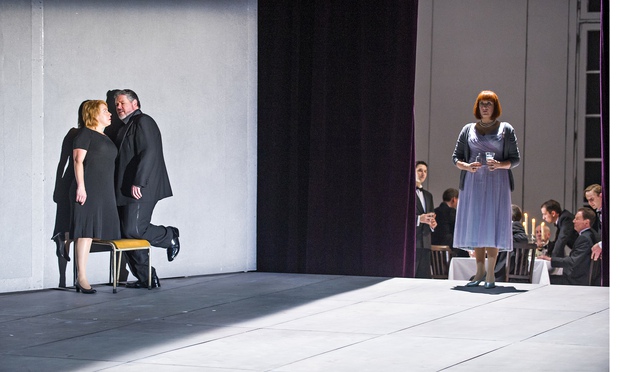 My critical view of Christof Loy's acclaimed production of Tristan und Isolde is slightly marred by where I was sitting in conjunction to the Royal Opera House's stage – literally five meters away from Wagnerian Soprano Nina Stemme who won a Laurence Olivier Award for her performance as Isolde at its premier in 2010.
Having witnessed her vocal prowess and first-class performance at this year's Proms as an audacious Salome, my expectations were only skyrocketing for an opera said to be 'intoxicated by passion almost to the point of depravity.' Wagner, unlike other composers, wrote the libretto and poetry to his operas where 'words, stage setting, visible action and music all come together in closest harmony towards the central dramatic purpose' (otherwise termed as
Gesamtkunstwerk
(total
art-work)). And here Stemme's role as the heroine plays as much a significant part as Antonio Pappano's conducting of the orchestra of the Royal Opera House.
In this four hour production Loy's minimal setting, which is limited to walls, two chairs and a table, puts the onus on Pappano, the orchestra and the cast members' vocal craft to evoke the drama on to the opera; in the back a parallel world: banquet of debauchery, is concealed by curtains that supposedly represent Wagner's metaphysical influences from philosopher Schopenhauer and the yearning of endless night, darkness and even death. Although known for controversial productions, Loy's effective stage decision, here, is one that I fully support.
The preclude in Act I is a moving feast and it transcends from the overture - this unsettling and uncomfortable atmosphere of natural and sharp notes magically transfix into a reassuring romantic vortex, which sensationally flows and weaves. And Pappano just captures it like a butterfly in a nest. Of course, he is no stranger of Wagnerian Leitmotif as he also conducted Puccini's Manon Lescaut in this year's repertory and articulated his interest for such 'sublime' music. Yet once the overture was over, Pappano softened his conducting and left the magnitude to, what I thought was, one of the most crucial parts of the opera in Act II alongside Liebstod. It seemed that he was saving the ardour and luster for the climactic parts.
This was a different case for Stemme who entered with the same energy and fire, which she ended on.

In the 80 minutes where she had to sing continuously in Act II she was unflagging and we can only thank her experience as Isolde, in multiple opera productions, for her unrelenting performance - I can't recall a note off. Her stage act as an angry Isolde to a undivided and loving Isolde was also developed and didn't look a mark out of place. When Stephen Gould, as Tristan, and Stemme unite in Act II, I couldn't contain my tears – the Celtic poetry that inspired Wagner and the hopeful romance, exceled by voice and music, was
stupendous
– never has an opera truly make me feel this way.
Stephen Gould is no stranger to Wagner either and has played multiple international roles as
Siegfried and Lohengrin. Both him and Stemme seem to understand Wagner's musical text and the notion of Liebstod (love-death) better than many. Although Stemme comes in full thrust, and a notch higher in quality, Gould has tones of mellowness that can romantically subdue audiences. The role of Tristan is not an easy one and even if he was soft toned on the poetry he managed to balance this out with higher notes, which he sang with glory and might.
Brangäne sung by Sarah Connolly was also a vocal blessing as the contrast character to Isolde. Her strong voice, and diction was in place as well as
Brangäne's

woeful worries that were particularly felt by the audience. The synergy between Stemme and Connolly were remarkable. And we see Iain Paterson as a wilful Kurwenal who sings with heart and poignancy in Act III.
The wonderful production, I experienced, hit some nostalgic nerves. Liedstod, as I understand it, is a swirling symphonic piece that can be appreciated on its own; yet it needs the right soprano with the vocal integrity and depth to extract the challenging and peculiar subtleties of the music. I've been listening to a lot of Jessye Norman and now Stemme and although different in voice I admire how immensely important it is for there to be a strike in balance for such a cosmically daring role as Isolde.
Recommended to queue from 8.30pm tomorrow (21st Dec) for day tickets
Courtesy of Royal Opera House for photographs
"Breathe of the universe... High Bliss..." Thank you and Goodnight !! #ROHTristan @NStemme pic.twitter.com/lcYOm0wINq

— Mary Grace Nguyen (@MaryGNguyen) December 14, 2014
Preparing to be murdered to tears by act 3.GO #ROHORCHESTRA !GiMME everything #Wagner 's music dramas got #RohTristan pic.twitter.com/PS1j1RYi6e

— Mary Grace Nguyen (@MaryGNguyen) December 14, 2014
It's only just finished the first act and the word 'visceral' just doesn't cut it. #Wagner deserves entitlement to his own word #ROHTristan

— Mary Grace Nguyen (@MaryGNguyen) December 14, 2014
#ROHTristan #Pappano went straight into conducting without the introductory applause. He means business!

— Mary Grace Nguyen (@MaryGNguyen) December 14, 2014
Not so minimalist on #ChristofLoy 's stage. We know have an extra chair and a table #ROHTristan pic.twitter.com/Qn74WBE9tv

— Mary Grace Nguyen (@MaryGNguyen) December 14, 2014
#NinaStemme , STOP IT! You're making me blush #ROHTristan

— Mary Grace Nguyen (@MaryGNguyen) December 14, 2014