As we approach the New Year many will be reflecting on the wonderful moments they have experienced in 2014 including unforgettable theatre and opera performances. Unfortunately Katherina Thoma' production of Verdi's Un Ballo in Maschera (A Masked Ball), a co-production with Theatre Dortmund, won't be one of them.
The production had its premiere at Theatre Dortmund in September this year and its poor reviews and reception were already warning sides of what was to come. This collaborative work can only explains how little the production, including Katherina Thoma herself, know of Covent Garden audiences and their tastes.
Picture a dull and dimly lit gothic stage, set before World War I, with flimsy stage panels and irrelevant moving statues. It's a stale sight and this is the type of disappointing experience I had to endure. Even though there was much physical movement from cast, chorus and set designs, there wasn't enough life to ignite the passions between our lovers of doom: Riccardo and Amelia.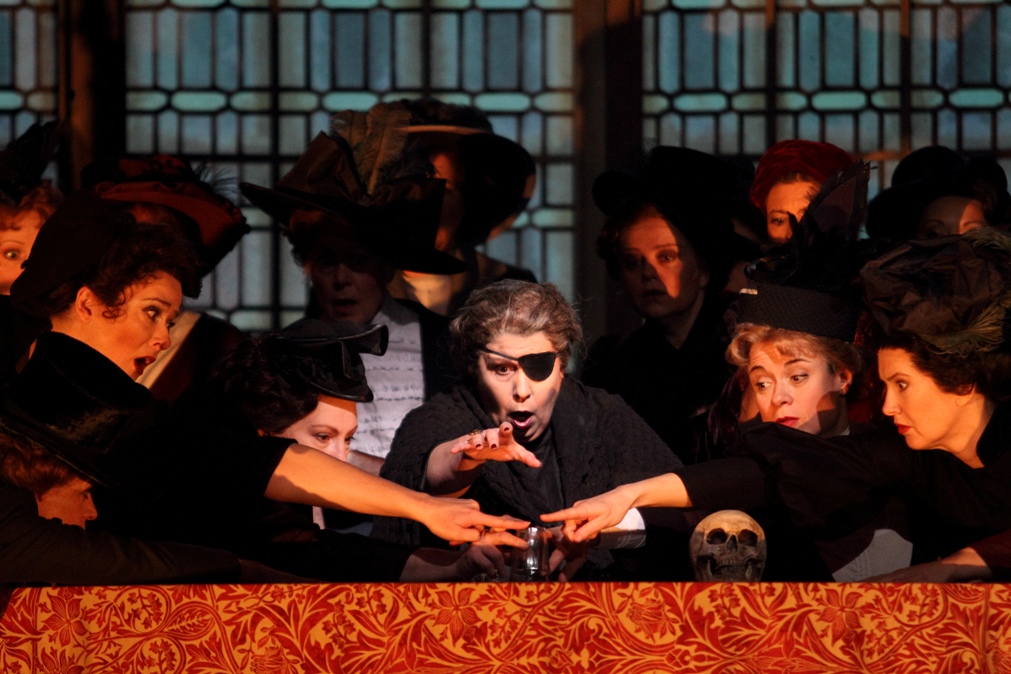 Soutra Gilmour's gloomy set is a reminder of what those who dislike opera think opera is like – dull, unimaginative, unmoving and stuck in the dark ages. If such person was to see this, his or her assumption of opera would only be verified.
As we know, staging is an important element of opera that enhances the visual sensors for audiences but interchangeably is reinvigorated by talented voices and a captivating score. So how was the conducting for the evening? Much concern was raised on social media about Daniel Oren's previous performance at Covent Garden with numerous operas like

Carmen

and

Rigoletto

(to name a few)

.

This was my first time seeing Oren in action and I

can only relate to those negative reviews I was cautioned of beforehand.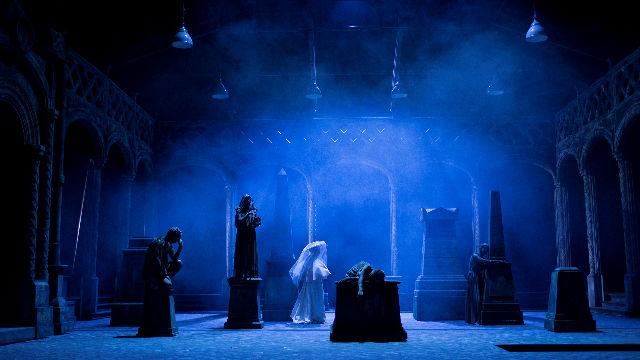 Viewing from the upper slips, I caught a glimpse of the Oren with the ROH Orchestra and it felt as if Verdi's magical score wasn't being pushed or challenged. (I compare this to a recording of Georg Solti's conducting with the National Philharmonic orchestra with Pavarotti, Prince and Bruson, which is brimming with pathos.) For me, Oren was playing too safe and not taking any chances; yet this could highlight the misgiving others felt of Oren's conducting generally.
Moments of real melodrama were pulled back and if Oren was taking an exam on Verdi, it would seem that he had just scraped a pass. Verdi's opera is a great tale of royalty, scandal, love and murder. This is a story about a King falling in love with his right-hand man's wife (for crying out loud!) and the music just didn't jump off the ground and poke me in the eye.
It was left to the vocal virtuosity of its cast members to do the hard work and knock audiences off their feet with their stage performance – but only just. If it weren't for them I would have left earlier.
Serena Gameroni as the cute minstrel Oscar was wobbly at first, like most cast members for a premiere night, but she yielded the stamina and silliness needed for her role. Her voice had moments of elegance and joviality but being that it was my first time seeing the opera, I wasn't sure if she was funny enough. Renato (King's right-hand man) sung by Dmitri Hvorostrovsky showed his true brilliance at the very last act and received a very loud applause from the audience for giving his all to such aria,

Eri tu

but not for necessarily feeling those emotions.
Ulrica, the fortune-teller, was sung by
Marianne Cornetti whose beginning notes in Act 1 were very much in character and encapsulated the ominous witch craft
the role of Ulrica

had to play, yet this was sullied by some poor stage decisions - she places her hands over an out-of-place Ouija board and summons the ghost of a would-be Batman. Jihoon Kim as Tom and Anatoli Sivko as Samuel were unflinching as conspirators against the king.
Joseph Calleja as that king,
was hypnotic yet not through and through.
Calleja and Liudmyla Monastryrska bestowed short glimmers of romance on stage, but these were only short moments. Monastryrska sung vigorously and struck awe into some high notes but there was nothing sustaining from either singers.
P

eriod costume a dawn. Bad staging, bad conducting and hope shining only from its singers on a momentary basis. We can only pray that the singers' voices and their characters develop as the production goes on. Possibly one of the dullest operas I have seen all year. Verdi's melodramatic brilliance and contentious work, supposedly about the

assassination of King Gustav III of Sweden (1782) is soiled in this production by too many things.
Photos courtesy of the Royal Opera House
I really liked the bit when Ulrica summons Batman. You know, like Batman Returns.... #ROHBallo
— Mary Grace Nguyen (@MaryGNguyen) December 18, 2014
#ROHBallo So, what we feeling ppl? Not sure about staging. Some great singing in Act 2 by Monastyrska & Calleja.Cornetti has her moments too
— Mary Grace Nguyen (@MaryGNguyen) December 18, 2014
#ROHBallo #Curtaincall NOT 'a night of horror' . GREAT CAST FOR SINGERS. It's the premiere so it can only get better pic.twitter.com/qPeMzNchda
— Mary Grace Nguyen (@MaryGNguyen) December 18, 2014