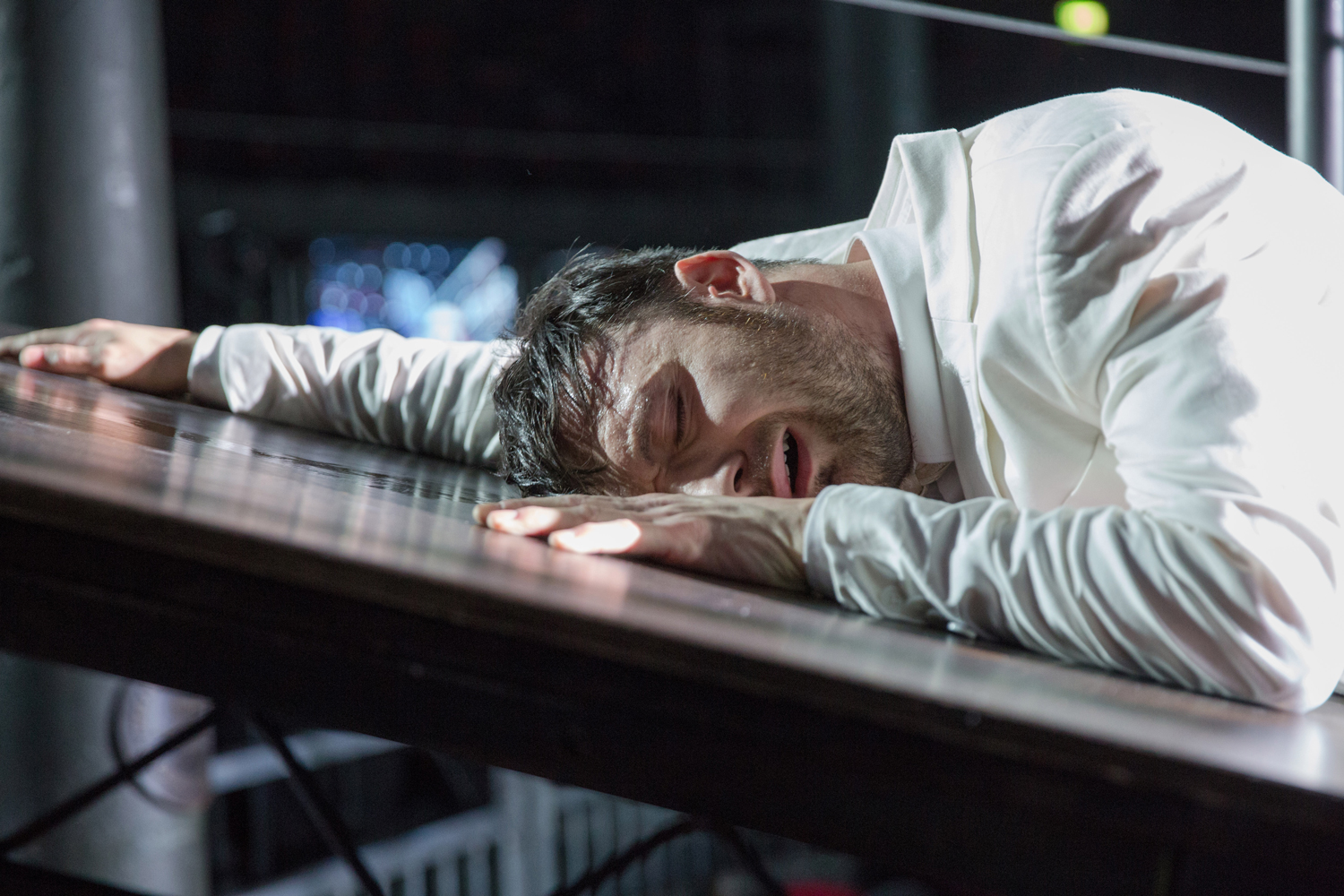 Last Tuesday [13th January 2015] was the opening night and first-time collaboration of the Royal Opera House (ROH) and The Round House of Monteverdi's opera Orfeo
(1607)

. Orfeo is a Greek mythology that has been molded and re-shaped in art, music and poetry for its symbolic imagery and heartbreaking, defining moment where the hero looses his love giving into temptation and 'looks back'.
Michael Boyd - former Royal Shakespeare Company's (RSC) artistic director for the past 16 years - made his debut directed this production. This was also the case for Don Paterson who had the challenge of translating the original libretto into fuller English phrases. Luckily for him he managed to find an already translated version
by
Anne Ridler but still found the task '
like trying to fit a set of spanners into a velvet box made for a dinner-service.
'
The set design by Tom Piper is bare. Performers and cast move barefoot and make use of a circular stage with built in soundboards. Attached is a long, stretched out walk-on slope that led to the corner of theatre depicting an entry into the other realm. Singers from the Guildhall School of Music and Drama stood on a balcony overlooking the stage with the musicians of the Early Opera Orchestra sat below with beautiful, large
string and brass continuo
instruments.
Props are limited to green
streamers, taken off and on stage, to replicate a pastoral atmosphere and the beginning of marriage life for Orfeo (
Gyula Orendt)
and virtuous
Euridice
(Mary Bevan). What is lacked in physical props, however, are replaced with human movement, acrobats and circus skills by East London Dance: young dancers aged between 11 and 21. There are no water trails or video projections of a river Styx but 15 dancers using their bodily strength to roll on their stomachs, jump impressively high and create human bridges stacked on top of each other.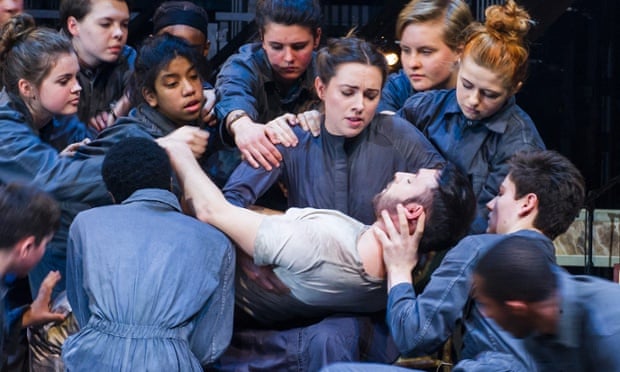 This is where the first part of the production spends a lot of time on - feet stamping, tireless acrobatic movements and irrelevant dancing. This is where the audience's real grief begins. Not so much on Orfeo's grief. When one should be paying attention to Monteverdi's opera, audiences move their eyes to a boy attempting to jump over our lead singer
Orendt and a boy in front of him. And when Orfeo torments over his loss of Eurydice one of the dancers spins around loosely on the ground in a green streamer, which is rather annoying. Indeed, at this poignant part of the opera it is wise, and acceptable, for directors to add something extra to enhance Orfeo's disposition, whether metaphorically or direct engagement, but this direction destroyed the entire scene for audiences, including myself. Come the second part and some audiences, a mix of students and veteran operagoers, had already left.
Boyd also framed the opera with a different setting which didn't bode well with fans of Monteverdi's opera. Boyd's court is looked over by 'pastors': not shepherds, who are dressed like intimidating priests, except for fresh faced American countertenor Christopher Lowrey whose stunning and silky voice drove out the omnious quality of his priest-like clothing.
To add to the religious theme Orendt was introduced as he was in the end: as
a pietà of Euridice holding her darling limp in her arms. The ending is saddened with Orfeo hanging loosely from a high-up harness, like a semi-crucifixion, trying effortlessly to touch his Euridice standing far below.
Yet this injection of religious revelation stunted the romance and magic of the Greek myth, I thought. Perhaps Orfeo shouldn't have turned around to check if his lover was actually there or arrogantly attempt to outsmart mortality, but with all these law-abiding priests hovering over him it leaves very little room for audiences' to use their imagination. To go to the depths of hell to save one's love is a beautiful act that permeates in Monteverdi's operatic score, but this was taken a step back in Boyd's production. Anything can happen on 'the stage' and, for many, this is the reason why audiences come to theatre. Insert priests for marriage, fine, however, for an opera like Orfeo priests act as a restrictor and drawback. To add to their lack of direction was the
definitive

moment Orfeo looked his wife. What should have been a climactic moment was treated like any moment.
How disappointing!
But 'how about the singing?' I hear you ask. Pretty good in terms of opera standards and what I'd expect from a baroque opera, despite what was happening on stage.
Hungarian-Romanian baritone
Orendt ignites a courageous Orfeo. Nothing about his stage presence made him appear feeble or morose even if the arias sang of misery. Bevan was also starry and oozed all that was pure of Euridice even though she plays a small vocal role, mostly, in the first half. Susan Bickley as the messenger entered from the tip of the slope with her face shadowed depicting a heavenly mystery with her tremendous voice, which echoed pity. Callum Thorpe as Pluto and Propserpina sung by Rachel Kelly were also absorbing with their classy cocktail-party attire, and not forgetting Susanna Hurrell, as a joyful nymph, Anthony Gregory and Alexander Sprague who delivered on the night as well.
So is Orfeo a successful collaboration or successful mess?
Indeed, both ROH and Round House have succeeded in their own unique ways. Some may say that the Royal Opera House thrives as being one of the grandest opera houses in the world. Our north London theatre, however, isn't known for performing operas. It prizes itself as a 'engine house' of contemporary genres from theatre, rock and punk. Much credit goes to the Round House for its supportive campaigns to encourage younger artists; from London communities, to get more involved in the arts.
So bearing these things in mind in that these establishments' have their own contrasting and distinctive qualities, was Orfeo a successful collaboration, welcomed by audiences, or a complete mess? The answer is 'no' to the latter, but for those who are seeking that 'opera experience'
where your seats are worth £120, you dress up to the nines and buy champagne at the interval
(or whatever that might mean to you), don't bother. On the other hand, if you are a true lover of early baroque opera and a sincere Monteverdi follower than come with your ears open as you won't be let down by the fierce and talented cast, included the postgraduate singers of
Guildhall School of Music and Drama
with stylish conductor Christopher Moulds and
musicians of the Early Opera Company. There are a few stage directions and themes that didn't quite mesh, for me, but this is a first collaboration after all. Maybe it won't be try too hard next time.
Currently showing until 24th January. Click here for more details. Photos courtesy of the Royal Opera House and the The Round House.