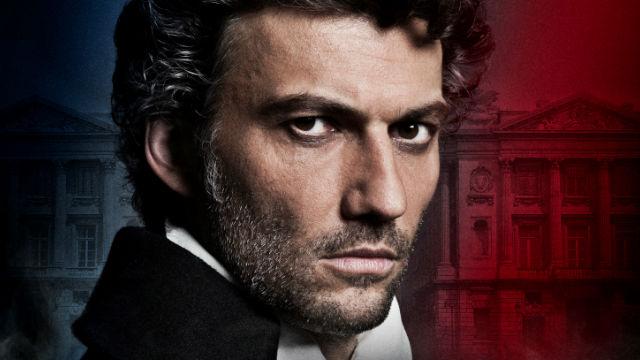 The highly anticipated opening night of
Andréa Chénier
, after 30 years of absence from the Royal Opera House (ROH), fulfilled
almost everyone's expectations. David McVicar's extravagantly traditional production provided a gracious setting for Umberto Giordano's lusty score. This was topped off with world-class singing from tenor-of-the-moment, Jonas Kaufmann, the front-running star who many had spent their 'bottom dollar' to see.
Rest assured many won't be asking for their money back.
Based in the 18th century, the historic Andréa Chénier was a poet who wrote against the status quo and was executed during the French Revolution -a tale that coincides and echoes the recent atrocities in Paris. For this verismo and classically tragic opera, however, Giordano sticks in a dagger and invents Gerard, an anti-hero to cause heart ache and anguish in a rivalry for Chénier's muse and lover Maddalena di Coigny.
Yet despite a gritty tale with a chilling guillotine and hoard of outspoken sans-culottes, Robert Jone's staging was pretty and pristine with traditional décor, candle lit chandeliers and Jenny Tiramani's clothes designs of pastel coloured dresses and Kaufmann's noticeable purple socks. The dances, from gavotte to pastoral ballet, were traditional choreography as well.
Even for the action scenes set at the 'Reign of Terror' to the moments before Chénier approached his impending death, the guillotine and jails appeared newly furbished. Yet compared to the last ROH production of Un ballo in maschera, the quality of the staging was worlds apart with far more cash to spend, it seemed. Perhaps this was the edge that McVicar was looking for in producing this verismo opera. By reinforcing the lack of grit and references to the
Mala vita
the production recreated a sumptuous and grander opera of romantic sharp music and higher emotional power, which worked marvelously for such a beautiful opera.
Long applause greeted Kaufmann's first aria, Un dì all'azzuro spazio, and no one dared to cough through it. Having been acclaimed for his recent performance at Wigmore Hall, he brought the same temperament and skill into the opera house. His handsome looks mirrored his glorious voice and portrayed a man of conviction, wisdom and lover of Maddelena.
Ž
eljko Lu
č
i
ć
also played a substantial role this evening, but had some warming up to do before impressing audiences with his bold voice in act 3. He sung with full force and sensibility particularly in 'Nemico della Patria'. Despite not bringing the house down, as he did in last year's production of Macbeth at the Metropolitan Opera, his acting abilities presented a visceral side to Gérald's fickle and jealous conscience.
Eva-Maria Westbroek was suitably matched to 'Esparanza' Maddalena. When Westbroek sang 'La mamma morta', in act 3, she sang with courageous pathos, which was superbly followed by a gentle cello solo. Westbroek parked her former role as the starry and debauched Anna Nicole for a tender and vulnerable Maddalena; one could imagine her as a knock-out Mimi in La Bohéme.
The opera had a victorious ending with a spectacular love duet evoked by our lead couple, which reached all the money notes: it was a duet that had all the stuff of a truly romantic opera.
There were other singers that performed marvelously from Elena Zilio, who sang as the blind mother who gave away her son to the war, to Roland Woods as the honest friend of Chénier, Roucher. Peter Hoard, Peter Coleman-Wright, Rosalind Plowright, Carlo Bosi and Adrian Clarke had small roles, yet their theatrical and operatic contributions were valued by the audience.
As for the conducting, Antonio Pappano's made
Giordano's opera seem almost too perfect. Although euphonious and harmonious, I felt that, the music sounded pure and virtuous for an opera about injustice and the grime nature of the 'Reign of Terror'.
One can only wish that there were more scenes with Chénier and Maddalena flaunting their love and more of Kaufmann's operatic prowess and profound presence. The opera, with its additional march music and lavish dances, is charming, captivating and eclectic. If you can't get a ticket to the Royal Opera House, I'd highly recommend you grab a cinema ticket for the live screen on the 29thJanuary.
Photographs courtesy of the Royal Opera House. For more information, click here. The opera is showing until the 6th February. For more information about the live screening, click here.
A fantastic #ROHChenier first night. Gracious setting, scrumptious music & world class singing. This is called opera. pic.twitter.com/3dByfEJc8Q
— Mary Grace Nguyen (@MaryGNguyen) January 20, 2015
Westbroek suits the part of Maddalena. She 'd be an epic MiMi. All that tenderness. Thankfully no sign of Anna Nicole pic.twitter.com/thT061Qmpo
— Mary Grace Nguyen (@MaryGNguyen) January 20, 2015
It all came together for Zeljko Lucic in the 3rd act. Not as sturdy as Macbeth but majorly impressed #ROHChenier pic.twitter.com/ZlmBvdNupR
— Mary Grace Nguyen (@MaryGNguyen) January 20, 2015
#ROHChenier Final love duet was worth all the money notes. Utterly Spectacular! Westbroek, @TenorKaufmann , you nailed it! Completely moved
— Mary Grace Nguyen (@MaryGNguyen) January 20, 2015
My pitiful attempt of taking photos of @TenorKaufmann .To think I wouldnt be shaking is wishful thinking #ROHChenier pic.twitter.com/GyNCvABY0i
— Mary Grace Nguyen (@MaryGNguyen) January 20, 2015